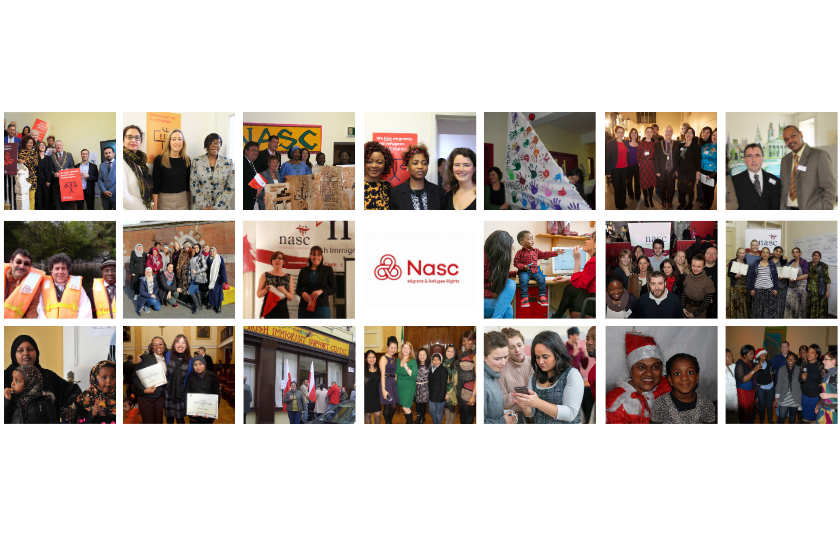 A word from our CEO, Fiona Finn
Today marks the 20th anniversary of the founding of Nasc, when a small  group of social justice activists, academics, members of the religious and wider Cork community, came together in 1990 to with little or no funds and set up Nasc in a small room in St Mary's of the Isle. They may not have had funding but they shared a faith in the principles of inclusion, equality, social justice and human rights. 20 years later we remain guided by those same principles.
Over the years Nasc has supported thousands of migrants, refugees and asylum seekers and the demand for our services continues to grow. I would like to take this opportunity to thank all the Nasc clients who have come through our doors  over the last 20 years, it is a true privilege to work with such an incredible community. You have enriched our city and country.
Thank you to the incredible staff  and volunteers who have worked with Nasc over the years. Your commitment and hard work have kept us going through good times and the not-so-good times. Thanks also to our funders, donors, supporters and Cork community who have stood with us and put their faith in us.
In true Irish style, we'll defer celebrations to our 21st birthday next year. I hope that you will all be able to join us.
STARTING NASC
The engine of my classic VW van sputtered into life on May 1st, 2000.  While it was a solid bus, with some beautiful touches, it had been giving a bit of trouble starting, requiring outside assistance more than once.  I needed the van to work that Monday, and it did.
It was my first day as co-ordinator of Nasc, marking the culmination of the work of many people.  Their work began many months previously following a public meeting of Immigrant Solidarity, a Cork collective advocating for the rights of migrants and against some of the wrongs of Government.  The public meeting was well attended, with speakers issuing both advice and information about anti-racism projects and possible deportations.   As the meeting concluded a new voice spoke from the back of the room, a voice new to Cork and new to the crowd.  "My wife can't speak English and I don't know where we can live.  These are my needs."
That voice, the voice of the person in need, no matter how quiet, how meek, how angry or how strong, was the one that guided the group whose work culminated in the opening of NASC that day.  Amongst those leaders were Fr. Fachtna O'Driscoll (SMA), Piaras MacEinrí (UCC) and Sr. Maria McGuinness (RSM) as well as a host of other academics, religious, activists, teachers, homemakers, lawyers and other committed volunteers.  All gave their time freely to help source more help, more funds, to give advice, to give service, to gather allies, to share ideas, share recipes (yes, there was a Nasc cookbook), but most importantly to share ownership of Nasc with the people who needed it most. 
At a time when all things were new, the service, the people, the problems, many questions had to be answered with a negative ('no you do not have the right to work'; 'no family reunification will not be quick'; 'no the newest rumour is not true').  When there was little hope, we had a simple ambition to be positive, to make each person smile, even if just once.  That was the door I drove in to open that day.
Like Nasc, the old VW van and I parted company many years ago, but I remember them both affectionately. Yes, they were both a little rough around the edges, but they had an inherent beauty.  Nasc's door opened for the first time, 20 years ago on the first of May, 2000 (a bank holiday Monday, oh the exuberance!) and just like the classic VW van, Nasc's value has multiplied many times over since.
HAPPY TWENTIETH BIRTHDAY NASC
and thank you to those who have kept its candle burning bright
Brendan Hennessy