Syrian family welcomed to Wicklow with open arms in pilot Community Sponsorship project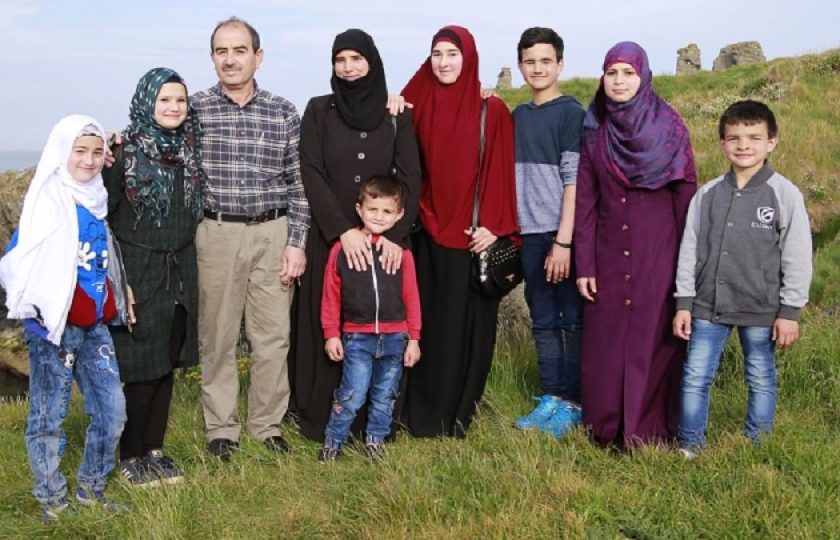 A Syrian refugee family who arrived in Ireland through family reunification have been warmly welcomed into the community in Wicklow Town though a pilot community sponsorship project organised jointly by Nasc, the Migrant and Refugee Rights Centre and Wicklow Syria Appeal, a voluntary group based in Wicklow Town. 
The family of nine, a couple and seven of their children, had been living as refugees in Lebanon since the destruction of their home city of Homs in 2013. They came to Ireland to be reunited with their eldest daughter, who had arrived to Cork two years ago with her own husband and two small children as part of Ireland's resettlement commitments under the Irish Refugee Protection Programme (IRPP). 
"The family arrived in late April and have been spending the last six weeks settling in to their new home in Wicklow Town, with the huge support of the generous group of volunteers in Wicklow Syria Appeal," states Nasc CEO Fiona Finn. "The family feel incredibly welcomed by the community, and the support of Wicklow Syria Appeal has helped make these first few weeks so much easier for the family." 
"The community in Wicklow are an incredible group of people who were motivated by the desire to play their part in the assisting the many Syrian refugee families forced to flee their homes because of the ongoing war and conflict. We have been able to provide the volunteers in Wicklow Syria Appeal the support and expertise we have in working with refugees and supporting their integration." 
"This has been a huge project over the last two years, spanning Syria to Cork to Wicklow," Ms. Finn notes. "It is the first of its kind here in Ireland, and we are hopeful it will become the model for more refugee families when the Government launches its official community sponsorship programme later this summer." 
Since 2015, Nasc have been calling for Ireland to introduce a community sponsorship programme modelled on the Canadian programme and programmes which have emerged in recent years in the UK and elsewhere. 
"This was a key ask in Nasc's national Safe Passage Campaign, and we were thrilled when the Government announced last September that it would be developing community sponsorship in response to Canada's call at last year's annual Concordia Summit in New York." 
Ms Finn continues, "There are so many communities throughout Ireland that are ready, willing and able to become community sponsors – to welcome refugees into their communities; to identify empty houses and make them liveable; to provide support and assistance in integrating into Irish society, learning English, accessing education and finding employment." 
Nasc has been working closely with Department of Justice officials, Global Refugee Support Initiative, Canadian government officials, UNHCR Ireland, the Irish Red Cross and other NGOs to develop a community sponsorship programme in Ireland. 
"Our input on this process has been very much based on the experience of the last two years working with Wicklow Syria Appeal to bring a Syrian family to Wicklow," states Ms. Finn. 
"Community sponsorship gives refugee families an opportunity to start to rebuild their lives with the support of individuals and groups who can help them navigate their new surroundings. It has been shown time and again – in Canada, in the UK – that community sponsorship helps refugees integrate and settle faster and more fully and happily. But just as importantly, community sponsorship is great for communities as well – it brings people together and rebuilds community spirit," finishes Ms. Finn. 
ENDS.