What is the Community Sponsorship Programme? 
Community Sponsorship is a an exciting new programme that allows gives people across Ireland the opportunity to come form a group and welcome resettled refugees to their local communities. Refugee families have often been waiting for years on UNHCR resettlement lists in countries like Jordan and Lebanon. Community sponsorship gives the opportunity to people in Ireland to provide a welcome and a home to people desperately waiting for sanctuary.  
Groups are asked to fundraise and find accommodation and are then matched with a refugee family in need of resettlement by the Department of Justice. Regional support organisations like Nasc provide support and training to groups throughout the process. 
Community Sponsorship began in Ireland in December 2018. Since then, almost 20 groups have taken part in the programme. Excitingly, several have already welcomed refugees to their communities. You can learn more about some of the groups in Cork and the families that have arrived in this feature in The Echo. 
Why get involved?  
There are lots of reasons to get involved in Community Sponsorship. By getting involved, you are directly supporting and offering friendship to refugees as they move to Ireland for the first time. You are helping to build bridges between newcomers and settled communities and you are bringing people together. Groups we've worked with have found the experience overwhelmingly positive and told us that the being part of a community sponsorship group connected people and helped create more welcoming communities.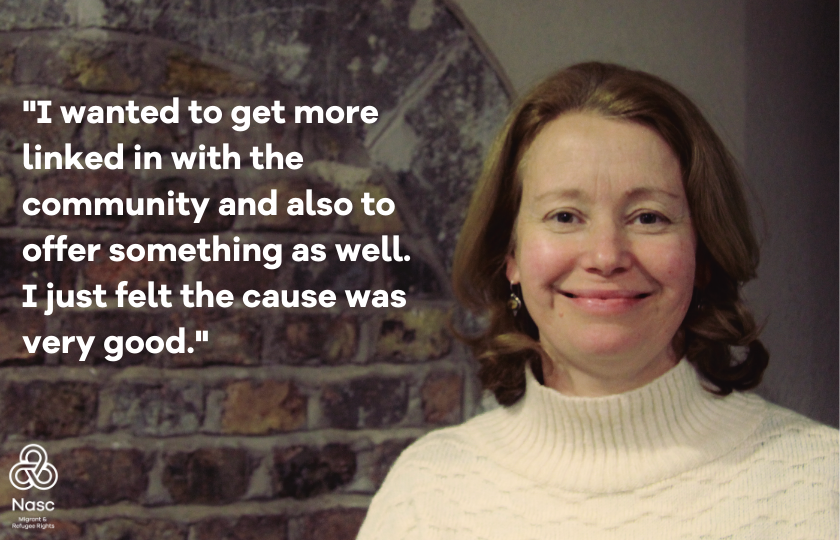 Become a Community Sponsor
We want more people across Ireland to take part in Community Sponsorship. And the good news is that anyone can get involved.
The idea is that people work together in groups to welcome refugees to their communities and each group welcomes a refugee household to their town. As part of a group, you help make the family's move to Ireland as smooth as possible. You track down local supports like doctors and language interpreters; you find accommodation; you fundraise; you welcome the family and introduce them to the local community; and, most importantly, you offer them a new home and sense of belonging. 
There are a couple of key things that we ask of Community Sponsorship Groups:  
Fundraise €10,000  
Groups do this before the family arrives. This covers initial rental costs of the family and things like dental and interpretation costs 
 

Safeguarding 
Every group member needs to be Garda vetted via the regional support organisation; and the group needs to write up a child safeguarding policy. Submit the policy alongside your settlement plan

Find a house/apartment that will be available to the family for 24 months 
Most groups find private rental accommodation. They source it before the family arrive. The rent will be mostly covered by Housing Assistance Payment. Most groups will need to cover the deposit and first month's rent while this is being processed. 

Support the newcomer family for 18 months post arrival.
All the groups we've worked with were initially daunted by the fundraising and the housing asks. We completely understand this. But most groups found the fundraising not only doable, but fun; and found accommodation, sometimes using creative solutions. If you have any questions, get in touch with us and we'd be happy to chat.  
Get started  
You could join a group locally or, if there isn't one in your area, how about starting your own? We work with lots of groups and all of them met in different ways. Some already knew each other. Others were complete strangers who responded to a notice. All of them have made meaningful connections from the experience. 
 
Want to get involved or find out more? Get in touch and we'll help get you started on your Community Sponsorship journey. See our Community Sponsorship page for more information or contact us via email at maria@nascireland.org or phone at 021 427 3594.
You could be the difference.